Do you have what it takes to succeed with DX?
SURVIVAL in the digital era means companies need to embark on a journey to transform themselves digitally.
In today's disruptive, cross-border, intra-industry marketplace, the path to digital transformation (DX) might not be the same, but the end goal is to beat the competition and win the hearts of consumers.
According to a recent Fujitsu report, there are six factors that help leaders get started with their journey.
Fujitsu calls this the Digital Muscle – the idea being these six factors are like muscles in a human body. The stronger the digital muscles, the greater the chances of a company achieving success in business outcomes through DX.
# 1 | Leadership
DX needs to be the priority of a CEO. The leader sets the tone on what is important for the company.
# 2 | People
DX will affect people's workflow. Companies need to ensure people have the right skills for DX and arrange for necessary training so that the staffs would be able to make the most out of any technological changes.
# 3 | Agility
Digital moves fast and companies need to stay on their feet.
Companies need to foster a culture that supports innovation and create an appetite for a design thinking approach. This encourages people to contribute ideas for improving business processes.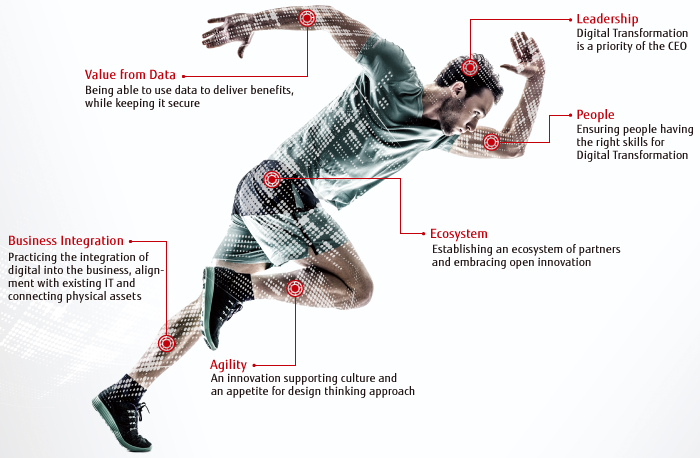 # 4 | Business Integration
IT isn't standalone – it needs to align and integrate with your business goals.
Companies should look at what are their existing IT resources, connecting it with available assets in the company and how they can improve on it.
# 5 | Ecosystem
No company is able to do everything in-house, and keeping your systems closed is counterproductive in DX. Establishing an ecosystem of partners and embracing open innovation is important.
Partners specialize in their respective fields and would be able to best advise on necessary measures to help propel your business forward.
# 6 | Value from Data
Integrating a new system isn't just about using technology. Companies need to also use the data collected to drive more benefits for the company. It is also important to keep the data securely.
Fujitsu's report showed that business leaders understand the impact of AI on their industries, with most of them positive about the changes it would bring. In fact, more than two-thirds of respondents believed that people and AI will work together in the future.
For companies to realize the advantages of using AI, the six factors mentioned serving as the core capabilities needed to drive their DX. While some companies are stronger than others in certain areas, these six factors would need constant reinforcement for a successful DX.
---
---
---