BharOS: The made-in-India OS to take on Android
Developed at one of the top engineering colleges in India, BharOSis claimed to be more secure than Alphabet Inc.'s Android OS.
BahrOS is apparently designed to be used in businesses and high-security surroundings, with no built in default apps, giving users access to only trusted apps from private store services.
A week ago, Alphabet Inc's Google lost its bid in the Supreme Court of India to block an antitrust order that would force the tech giant to change the business model of its popular Android operating system (OS). India's Competition Commission has ordered Google that the licensing of its Play Store "shall not be linked with the requirement of pre-installing" Google search services — the Chrome browser, YouTube or any other Google applications.
It was last year when the tech giant was found guilty by the Competition Commission of India (CCI) of abusing its dominant position in the Android Mobile device ecosystem and its operation of the Play Store. Therefore, CCI ordered Google to allow the uninstalling of those apps for Android phone users in India. The search engine behemoth was further ordered to make other significant changes like allowing third-party app stores to be sold on Google Play.
Other changes include giving users choice of default search engine when setting up a device; ceasing payments to handset makers to secure search exclusivity; not denying access to Android APIs to developers who build apps that run on Android forks, and allowing such forks. On top of all the orders, Google was also slapped with a US$162 million fine.
The fine is not really an issue, a small figure compared to what the company earns. The issue, according to Google, is the fact that India's requirements will harm the Android ecosystem and, by doing so, disadvantage India. However, this seems unlikely: even before the dispute, India was developing "a rival to Android OS."
BharOS vs Android OS
The BharOS is an Indian government-funded project to develop a free and open-source operating system for use in government and public systems. Developed by the Indian Institute of Technology, Madras (IIT), the project aims to reduce the dependence on foreign OS in smartphones and promote the use of locally developed technology. For India particularly, it is a step toward creating an indigenous ecosystem and a self-reliant future.
On Tuesday, Dharmendra Pradhan – the country's Union minister for Communications, Electronics and Information Technology and Union Education Minister – tested the OS. BharOS Services are currently being provided to organizations that have stringent privacy and security requirements and whose users handle sensitive information that requires confidential communications on restricted apps on mobiles. These users also require access to private cloud services through private 5G networks.
Tested Indian 'Operating System' – BharOS developed at @iitmadras with @dpradhanbjp Ji; A leap forward in PM @narendramodi Ji's #AatmanirbharBharat journey. pic.twitter.com/eOt3un5okm

— Ashwini Vaishnaw (@AshwiniVaishnaw) January 24, 2023
BharOS also comes with No Default Apps (NDA) which means users aren't forced to use apps that they may not be familiar with or that they don't trust. Such an approach allows users to have more control over the permissions that apps have on their device.
According to Karthik Ayyar, the director of JandK Operations Pvt Ltd, the start-up that developed the OS, "BharOS offers 'Native Over The Air' (NOTA) updates that can help to keep the devices secure. NOTA updates are automatically downloaded and installed on the device, without the need for the user to manually initiate the process." This ensures that the device is always running the latest operating system version, including the latest security patches and bug fixes.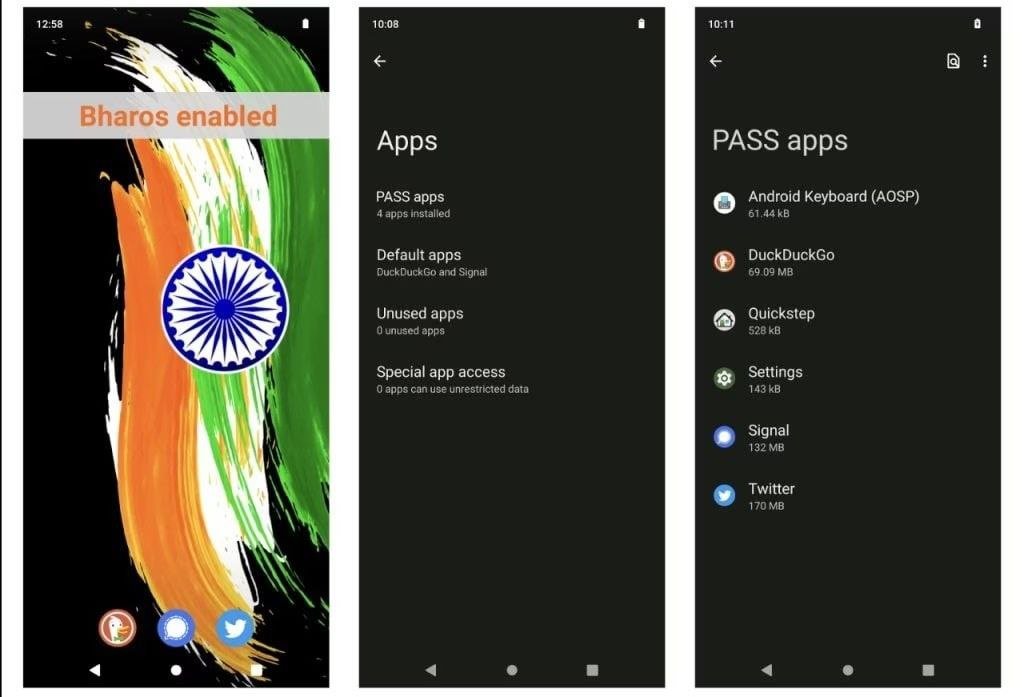 "With NDA, PASS, and NOTA, BharOS ensures that Indian mobile phones are trustworthy" Karthik noted. BharOS provides access to trusted apps from organization-specific Private App Store Services (PASS). A PASS provides access to a curated list of apps that have been thoroughly vetted and have met certain security and privacy standards. 
---
---
---
---